So I'm now a part of tribe.net and myspace as well as this crazy bullshit. I really love all this fun stuff but holy moley I'm gunna be stretched thin. I just don't get a chance to get online when I'm living out in the woods nearly as much as here in babylon. Go figure...... 
Last night was absolutey insane and fun, too. I showed up at Jannus Landing at around 9:45 during the Benevento/Russo Duo show with Mike Gorden from Phish playing bass. My intention was never to actually go to the show but to hang out a bit outside, hear some music, and than make it over to Tamiami Bar (which is connected to Jannus) and see Middle Rhythm Section play the afterparty and hang out with Alexis.  Mission accomplished.  They played an awesome set and then I ended up at a table in the bar with Alexis, this pretty mama named Maggie, who, it turns out, I met at a Dark Star show at Jannus last year, Mike Gorden, and the Duo.  Pretty fucking sweet.  After quite a bit of drinking and flirting with Maggie, Mike and the boys all up got and walked onto the little stage, grabbed some instruments, and proceeded to play an absolutlely rocking fucking set with some of Middle Rhythm Section.  They played Lovelight, I think some Phish, and some other awesome jams.  Man I got down and funky up on that floor. 
The funny thing is that I never got into Phish.  I went on tour, caught a show up in Wisconsin, yadda yadda yadda, but I just never got that bug like so many kids.  I still totally have respect for their music and ability and WILL get funky if I must, but now I dig 'em quite a bit more.  I think Trey really just turned me off.  Mike, however, is one helluva bass player.  Tonight, New Monsoon downtown at The Bank.  This New Years will cap off one awesome, beautiful, and cosmic little visit home.  
Sometimes there's songs that'll send chills all throughout my body and make my nipples hard.  Rubin and Cerise, sung by Robert Hunter is one of those songs.  To hear all these Dead songs that I know and love sung by the poet who wrote them with Jerry is just fucking beautiful. 
Oh, and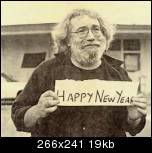 everyone.